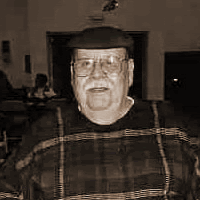 Louis Hernandez
I was born here. I was born where Dodger Stadium is still. That used to be called at one time Chavez Ravine. People that've heard of it, hear different stories still. I'll tell you the way it was. Originally, that area there, the city started buying the properties up to build low housing, for the people. So they started buying, they started buying properties. They got about halfway through, maybe sixty percent, and they ran out of money or they canceled the project. So then, they didn't know what to do, that's when they sold the property to O'Malley for the Dodgers. After they took ownership, then all the people that were still there, they faced eminent domain. So they moved 'em all out.
But, in retrospect, even though they were ousted - I say ousted because they were forced out - they got more than enough for their properties. More than enough. I'll give you an example. My dad, he had a house, probably worth maybe five thousand dollars. A big yard, seventy by a hundred-fifty. The money he got for that property, we bought three houses in East L.A., three houses and paid for 'em with the money he got for one. So he lived in one and rented two. Not only him, that's what happened to everybody, but there's always somebody who, you know, is not quite satisfied. At that time you got a hundred-thousand dollars for a house, oh gosh a big boost, people said, 'Oh, I wanted two-hundred thousand!' So there was a lot of dissatisfied people.
But my dad was one of the first ones to move out. Once the city started buying, he sold, before O'Malley. My dad said, 'Well, eventually we're gonna have to move out of here, so we might as well start looking for a place to buy.' And then when they came up with the money, he knew exactly where to go buy. He was very happy, you know.
Most of the people didn't move to East L.A. A lot of people you talk to here are from there, they moved to Highland Park area. I'd say ninety percent of them moved to Highland Park area, this area here.