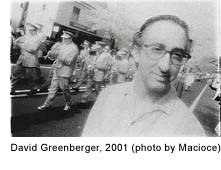 Foreword
The Duplex Planet is an ongoing work designed to portray a wide variety of real characters who are old or in decline. In our culture, exposure to people at this point in their lives is generallylimited to seeing family members age and, since that points directly to one's own mortality, it's hard to glean much in the way of an objective example.
I started The Duplex Planet as a small, homemade magazine in 1979, which I still publish. It has subsequently found larger audiences in other forms which are all derived from the original template. There have been book collections, spoken-word recordings and a series of concerts presented by Art's at St. Anns with music composed by NRBQ's Terry Adams were recorded for New York Public Radio and presented as "The Duplex Planet Radio Hour." A series of CDs titled Lyrics by Ernest Noyes Brookings continue to be issued, featuring a wide variety of notable musical acts (XTC, Brave Combo, Morphine, Ben Vaughn, Peter Holsapple, Young Fresh Fellows, Robyn Hitchcock, Dave Alvin, and over a hundred others) performing songs they wrote and performed utilizing the words of Duplex Planet regular Ernie Brookings. Duplex Planet Illustrated is a comic book adaptation of the material drawn by a variety of alternative artists and illustrators, including Peter Bagge, Drew Friedman, Dan Clowes, Jim Woodring, Chris Ware and James Kochalka, published by Fantagraphics. An exhibit of drawings and sculptures by a few of the subjects in the magazine titled "An Exact Spectacular" has traveled to museums and colleges. 1001 Real Apes, a theatrical presentation, features monologues drawn from the pages of The Duplex Planet, with music composed and performed by the critically acclaimed instrumental ensemble Birdsongs of the Mesozoic. A series of personal commentaries drawn from my experiences with this body of work have been airing regularly on National Public Radio's "All Things Considered."
In 1979 I took a job as activities director at a nursing home in Boston. I had just completed a degree in fine arts as a painter. On the day that I first met the residents of the nursing home, I abandoned painting. That is to say, I discarded the brushes and canvas, not the underlying desire to see something in the world around me and then communicate it to others. In this unexpected setting I found my medium. I wanted others to know these people as I did.
From the start I felt that oral history was unsuitable to my needs. When newcomers hear that I have regular conversations and interviews with elderly people, they assume I collect oral history. What that assumption implies is that when one grows old we become solely a repository of our past. This notion is so entrenched that we seem to willingly grow old, talking only of our past. From the start, my mission has been to offer a range of characters who are already old, so that we can get to know them as they are in the present, without celebrating or mourning who they were before. Since the elderly are already thought of by what they have in common - that they're all old - I try to recast them as individuals. I quote and write about them in order to address the larger world. The audience/reader meets them and comes to feel the characters are familiar, people they might want to spend time with. The men and women whose individualities expose the myths of aging are not extraordinary. They are typical in their unique humanness.
Another way we, as a society, avoid looking too closely at people living near the ends of their lives, is to put them on a pedestal, which cuts off avenues of real one-on-one communication and friendship. Wisdom comes with knowing a person well enough to recognize their particular take on the world. It comes in the rich language of personal poetics, accidental utterances, and exuberant expressions that are the result of the brain working faster than the mouth.
Humor has always played a key role in my work, and this is for a most simple reason: humor is a step by which we get to know another person. Humor is the first socially acceptable level of emotional exchange. Assessing someone else's sense of humor is a determining factor in whether or not a friendship is built. A great deal of information is being evaluated in those early stages of relating to another. Since my quest is to show the vast variety of people in decline, I also need to include those who have lost the ability to maintain linear thought and orderly discourse. They're not going to return to reality, so I need to follow wherever they may go. We're most afraid of losing the use and clarity of our minds. Confronting that which you fear allows insight.
With most every important transition in our lives we draw on our observations of others who have made similar changes. In the universal experience of aging we are desperately short of meaningful guidance. The Duplex Planet offers some lessons and examples.
- David Greenberger
Articles about the Duplex Planet
Contact information
For general information, email info@duplexplanet.com
For booking/press, email booking@duplexplanet.com