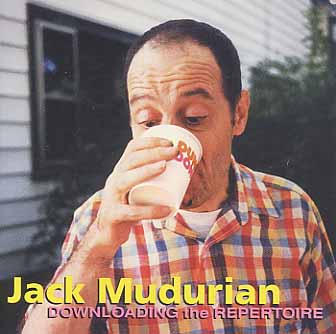 MUD Jack Mudurian: Downloading the Repertoire
Jack Mudurian loves to sing. It's as simple as that. Ask him to sing, and
sing he will. Claiming a repertoire of "almost as many songs as Sinatra," I
challenged him to sing for 45 minutes continuously. Armed with a handheld
tape recorder loaded with a C-90 tape, we stepped out onto he back porch of
the Duplex Nursing Home where Jack lived. It was a clear June afternoon,
the weather was perfect. Birds can be heard singing in the trees (and
another resident, Francis McElroy, can also be heard vocalizing in the
distance from time-to-time). This CD is the unedited recording of Jack's
129-song medley. If you like the buzz you get from coffee and have been
seeking an audio equivalent, this, my friends, is it!