Metroland
Volume 27 - Number 33 - August 12, 2004
The Conversation Artist
For 25 years, in his magazine The Duplex Planet, David Greenberger has compiled portraits of relationships— the most significant being that between the artist and his muse
By John Rodat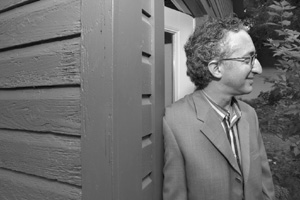 Envy David Greenberger; envy him for the worst job he ever had.
To retrieve a brief written account of this rotten assignment—and, really, it was more of an assignment than a job—you could flip through years of Greenberger's work. Assuming you were orderly and chose to search through his oeuvre chronologically, your most direct route would be to start from the present and head back; still, that'd be just over a decade's worth of material. Working forward, it'd be 14 years.
Now, there's a small but loyal clique—one with no small percentage of very busy, illustrious, even celebrated people—who'd find this research no chore at all. Based on their praise for Greenberger's stuff, folks like Matt Groening, Jonathan Demme and Michael Stipe would find it a great pleasure. But if you're an impatient type and can lay your hands on some inside info, you could get straight to it: Duplex Planet, No. 127, 1993.
In this particular issue of the small magazine Greenberger has been putting out since 1979, a reader will find quote after quote on the subject of the myriad miserable ways a person can make a buck. And, since Greenberger fills Duplex Planet exclusively with the insights, anecdotes and information gleaned from conversations with the residents of nursing homes, meal sites and other elder-care facilities, there are lifetimes of lousy and laughable labor cited in No. 127.
Ethel Sweet, for example, was none too pleased with her dangerous stint driving a forklift during World War II, when the domestic workforce had been reduced to "4-Fs and women"; Everett Bosworth could have done without the back-breaking labor of his time spent with "pick and shovel," despite the good pay; John Fay might have been willing to pick up Bosworth's slack if it would have gotten him away from the graveyard, though he admits to liking that "nobody would talk back, no matter what you said." And on it goes entertainingly through the farm work and secretarial work and pig killing and table bussing and latrine cleaning and soup-sludge skimming. Yes, soup-sludge skimming: It's an obscure task, but it's better not to press Perry Carber about it much; he still seems a bit touchy, and he's prone to yell if questioned.
"You mean grease?"
Perry: "I mean sludge!"
"What the hell are you yelling about?"
Perry (yelling): "I'm not yelling!"
You were warned.
And Greenberger himself? According to the cover of No. 127, each copy of which has been lovingly—if perhaps prankishly—made unique by the hand-placement of a piece of masking tape on its face, the worst job David Greenberger ever had was "putting a piece of tape on each of these covers."
It takes a couple of minutes to find a place to settle down for conversation in Greenberger's Greenwich home. It's not that it's hard to find space, per se, rather there are almost too many options. The house is a recently converted two-family (Greenberger decided he wasn't really cut out to be a landlord), so there's a superfluity of sitting rooms, which Greenberger and his family (wife, Barbara Price, and daughter, Norabelle) haven't quite figured out what do with.
"How many living rooms do you need?" Greenberger asks half-rhetorically while gathering materials from assorted piles around the house. However underutilized the space may be in the Greenbergers' daily routine, to the visitor it doesn't seem wasted. Each room is stocked with books, CDs or display cases of collectible toys and pop-culture knickknacks (from Bart Simpson on a skateboard to a pressed-tin chimp to an antique packet of something called "Stripper Soap"), and the walls are covered with original art, much of it Greenberger's own.
So, it's in a room with floor-to-ceiling CDs and a couple of diminutive, decorative chairs engraved with folk-art-style wood burning, on a couch beneath a framed Chris Ware original, that Greenberger sits to talk about what was likely his most important job, one which led more or less directly to the later masking-tape trial.
After a fitful attendance at the Massachusetts College of Art and his eventual graduation in 1979, Greenberger landed a job as activities director at the Duplex Nursing Home in Boston; and it was there that the 25-year-old painter and musician stumbled upon his new medium.
"As soon as I set foot in the place, the urge to be writing it down was incredible," Greenberger recalls. The 45-bed, all-male nursing home was populated by what according to Greenberger would be considered "by most measures in our culture, losers."
"To me they weren't," he adds. "But something like 40 percent of them had alcohol-related problems, most of them had no families. There were a couple of guys who had had careers—attorneys or whatever—but a lot of them had either outlived somebody, or had alienated their families. So, there wasn't a lot of interaction with people's families. So, it felt like I had stepped into a little microcosm, like another world."
Another world with its own social codes: Though these men lived in common areas, each had "a privacy that they carried around with them," a phenomenon that fascinated Greenberger, whose only point of reference for shared living was the stereotypical college-age roomie arrangement. And the highly idiosyncratic way the men would communicate further thrilled Greenberger, who had been in the habit of recording remarkable quotes and non sequiturs in ever-present pocket notebooks since high school.
" 'What did he say?' " Greenberger says, reproducing his frequent reaction to the residents' comments. "There would just be these little lines, and you'd be like, 'Whoa'—and everyone would be talking like that. There was one guy: 'I can't talk to you right now, I've got a little bit of the headlamp coming on. See? Feel the current?' It was just his way of saying he didn't want to talk, but he believed there was some current running through him. He'd be fine for a little while, and then the conversation would become a bit more than he could do, and the headlamp would come on."
Greenberger, who had already been dabbling in mail art and art forms presented as inexpensive multiples (inspired, in part, by Ed Ruscha's dryly humorous art books), began typing up his notes and compiling them. By the fourth installment, The Duplex Planet had taken the form it would keep for the next quarter-century. And though the residents themselves were indifferent or nonplussed—"Geez, you're nuts" was a common reaction, says Greenberger—outsiders found the men every bit as compelling as did Greenberger. Almost immediately, the publication began generating press, aided in part by Greenberger's connections through Boston's art-and-music scene.
The enthusiasm and the coverage reinforced Greenberger's sense that he had found something special. "I was trained as a painter, I painted, I was doing work I liked, I was getting in shows, but I found this other thing I liked that I thought was more me. And I called it my art. And I purposely stopped painting so that it would be who I am and what I do, and all of my need to communicate would go through this."
In the ensuing years, Greenberger has expanded The Duplex Planet identity, enriching its vocabulary while retaining its fundamental character. The stories, quips, the voices, the characters of senior citizens are still elicited and shaped by Greenberger—with questions as direct as the aforementioned "What was the worst job you ever had," and as far afield as "How close can you get to a penguin?"—but they're presented in a wider and ever-growing variety of formats in addition to the magazine: as booklength compilations; as independent comic books illustrated by highly regarded artists such as Dan Clowes (known for his series Eightball) and Chris Ware (the artist who created Jimmy Corrigan: the Smartest Kid on Earth); as dramatizations with actors giving life to the words of the elderly; as monologues by Greenberger himself; and as collaborative works with Greenberger reading/performing over original compostions provided by musical artists such as Terry Adams of NRBQ, Birdsongs of the Mesozoic and the local group Jupiter Circle.
Along the way, he's picked up celebrity fans like the late Allen Ginsberg, George Carlin and Lou Reed, who has called The Duplex Planet "one of life's little wonders." He's also become a kind of go-to guy on all matters entertainingly elderly: He was contacted by HBO to work with legendary writer-producer Norman Lear developing a comedy that would feature a group of senior citizens. Though that particular project hasn't panned out, Greenberger's interviewing and writing skills have gotten him credits with such hipster faves as Comedy Central's Space Ghost Coast to Coast, for which he's written several scripts. (Greenberger also maintains a sideline of freelance art direction, and has worked on albums and Web sites for performers such as Marshall Crenshaw, Richard Thompson, Henry Kaiser and Robyn Hitchcock.)
For all this diversity, Greenberger believes that there is a consistency; that there is a thematic cohesion to all that is Duplex Planet. The interactions, the relationships, that motivated the 25-year-old art-school grad to lay down his brush in 1979 continue to motivate the 50-year-old artist as he interviews seniors across the country.
"The core of the art is the fact that you're communicating something," he explains. "It can be about color, it can be formal things—but separate from the materials, you're communicating something that becomes ideas in someone's head when they're not right in front of it. I feel like if there's an allegiance to that, rather than to materials, you might change what medium you work in, so that you can have a life that lets you do something with your day without making excuses for it."
Greenberger highlights his point by differentiating between his freelance life and his main gig: "I do someone's album cover, and I feel good about it. I think it's something I'm good at and I bring something to bear; but it would have happened without me. And this [Duplex Planet] feels like it wouldn't be happening without me. It really is me. It wouldn't exist without me, because it is me."
Greenberger's sensitivity to the uniqueness of individuals and the impact of their stories, even in excerpt and anecdote, allowed him to create for himself a previously nonexistent job and, in turn, a thriving life's work. Which in the long run probably more than makes up for a few hours spent sticking masking tape to a stack of limited-run magazines.